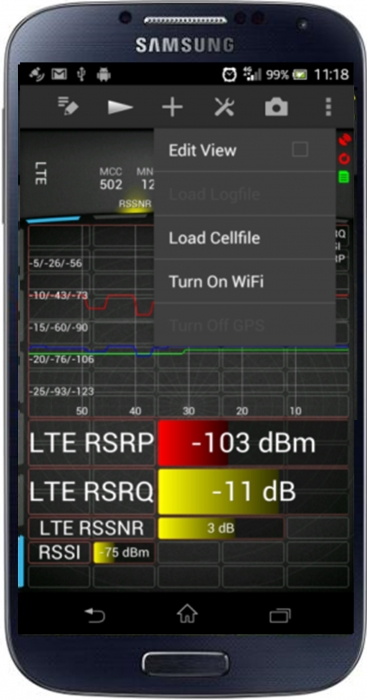 TEMS Pocket is a phone-based test tool developed for measuring the performance and quality parameters of wireless networks.

The tool collects measurement and event data for immediate monitoring or for processing by TEMS™ Discovery or other tools at a later time.

Using TEMS Pocket, operators can easily test locations such as inside restaurants, shopping malls, subways, trains, boats, event venues – anywhere that people go.

This can be done while using TEMS Pocket as a regular phone.

Small enough to fit in your hand, TEMS Pocket is powerful enough to capture a range of data which only a few years ago would have required laptops or even larger tools.

It allows the tester to test as a use

TEMS POCKET 13.3 ]
Product: Handheld Test Device
Devices: Sony Xperia V LT25i LTE,Sony Xperia T LT30a LTE SamsungGalaxyS4 LTE, SamsungGalaxyS3 LTE, Sa msung Galaxy Note 2 LTE, SamsungGalaxy Note 10.1LTE,LG Lucid 2 LTE.

TEMS™ POCKET - A COMPLETE MEASUREMENT SMARTPHONE SYSTEM IN YOUR HAND.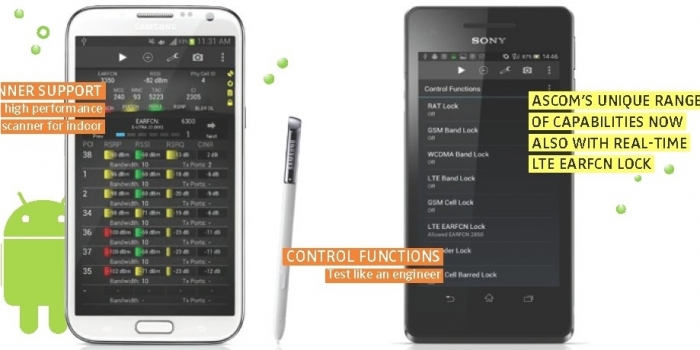 [TEMS POCKET 13.3]
KEY FEATURES
ƒ Google Android OS
ƒ High-performance smartphones
ƒ Spans all major technologies:
– GSM, EDGE, GPRS, WCDMA, HSPA
– CDMA, EV-DO
– LTE
– Wi-Fi
ƒ Scanning
– LTE scanning with DRT4311B Scanner
ƒ Automated service testing
– Video streaming testing
– VoLTE testing*
– HTTP file and Web download
– HTTP file upload
– FTL DL/UL
– Ping, email, SMS
– Voice, POLQA mobile-to-mobile and mobile-to-fixed*
– IP packet capture
– Wi-Fi scanning
– Multi-RAB (concurrent voice and data)
ƒ Time scheduled and event triggered
automatic tests
ƒ Automated logfile upload
ƒ Data views for idle, dedicated, RACH, data
bearer, script information, etc.
ƒ User-customizable data views
ƒ Data session event viewer for script
progress tracking
ƒ Positioning with internal or external GPS
ƒ L3 message header and full text viewer
ƒ Wide range of L3, call and radio events
with audio alerts
ƒ Voice codec and audio filter control for
superior AQM testing*
ƒ Line charts, distribution charts
ƒ Event markers in graphs, maps and logs
ƒ Indoor testing
– Convenient indoor map pinpointing
– Easy multifloor map management
– Support for MapInfo .tab files for easy map configuration
– Preplanned indoor routes for quick and easy indoor navigation
– Multipinpointing
– Import of iBwave Design 5.3 floor plans, MapInfo files
– Import of iBwave Design 6.0 .ibwc files
ƒ Outdoor map with global satellite, road or
hybrid map images for measurement plotting
ƒ Plot cell site locations and antenna
directions in outdoor maps
Import of cell site data for added cell information
ƒ Advanced control functions**
– WCDMA/GSM/LTE RAT and Band Lock
– WCDMA/GSM/LTE Carrier Lock
– WCDMA/GSM Cell Lock
– Ignore Cell Barred
– Access Class Control
– Fast Dormancy Control
ƒ Screen capture
ƒ Replay collected data directly in the handset
ƒ Logging with same level of detail as
TEMS™ Investigation, i.e., including L3/L2 and chipset diagnostics data
ƒ Filemarks in logfiles
ƒ More than 160 presentable measurements
ƒ Post-processing in TEMS Investigation 15.3
and TEMS Discovery 10.0 (and later versions)
ƒ User Manual and Quick Guide available on
the handset in mobile-friendly format
* Available on selected devices.
** Control functions may differ between model and release version. Please consult User Manual for details or request additional information from TEMS Sales.